New Rohn 55 Tower Installation, Summer/Fall 2010
After an accident in the Fall of 2009 took down an 85' Rohn 25 tower and 6 antenna, I realized it also gave me a clean slate to work with. I acquired about 28 feet of 5" X 7" X 3/8 "tool bar", perfect for making guy posts. Over the winter of 2009, these were built and Rohn 55 tower sections were secured.
In the Spring of 2010, site work was begun. The holes for guy posts (2' X 4' X 5')and tower base (33" X 33" X 54") were all slightly larger than spec called for, and a total of 5 yards of concrete were poured. Plans were to allow it to cure for the requisite 30 days, but the summer of 2010 was much hotter in Louisiana than usual. We had several record breaking high temp days, and a long string of over 100 degree days as well. This caused most outdoor work to be put off until temps break in the fall. Since it was previously owned, the entire tower has been cleaned and re-shot with cold galvanize.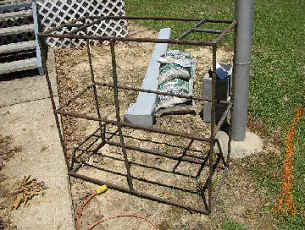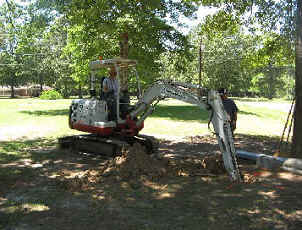 rebar cage and 9' guy post ready for hole Scott, W5WZ, digging hole for guy post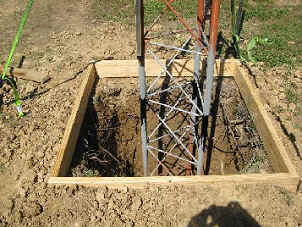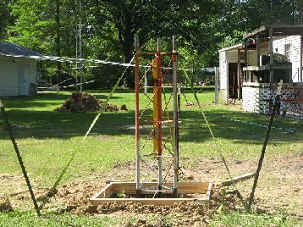 Hole for tower base - 33" x 33" x 54" Base plumbed and ready for concrete
Form for above ground "cap" is 45" x 48" Base section sitting on about 6" of rock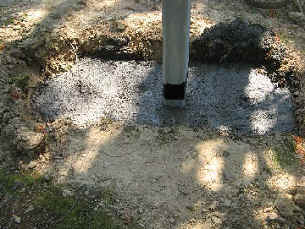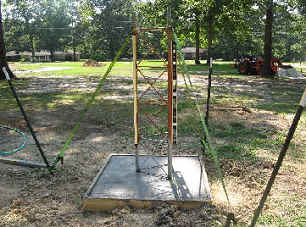 Guy post concrete almost finished Tower base finished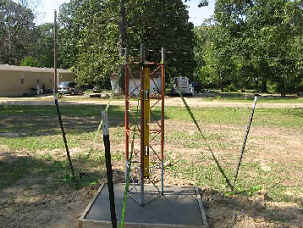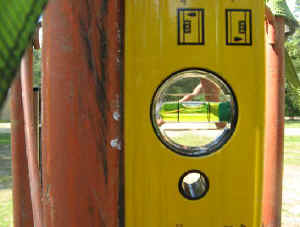 Another view of tower base Yes, it IS plumb
Fall 2010, Stacking Day - Its finally cool enough to work outside.
We got 96' stacked the first day, and finished at a height of 124' the next week.
The 3 TIC rings were installed on the ground - MUCH faster than in the air.
Photos here down by Gene Hayes, AC5EU. Click photo for close-up
Final testing of TIC ring rotor 4 el 15 and 4 el 20, ready to go up
Final Safety Instructions Bobby, WM5H, staging tower sections
Making fast progress Hoisting guy wires to installers
Stacking the mid sections. To save time, guy brackets installed before raising
Capstan winch speeds job Section w/ bracket and TIC already installed
K5RUS and I bought it just before Almost 250# lift was no trouble for winch
this project 3" x 16' HD gin pole didn't even flex
The crew - KB5YEG, W5WZ, K5ER, Tower as used Winter 2010/Spring 2011
W5KGT, WM5H, and N5LSP 4el15 @ 72', 4 el 20 @ 80'
Thanks, Guys!! More to be added in 2011!