K5ER.com
Home ARES Amp Project Antenna Contest Results Equipment Journal Links Memberships Photos QSL info Shack
K5ER Station Journal
I'll note recent changes, upgrades and other info here:
5/2/2013 - In the middle of a four day (forecast) rain event. Picked up last of hardware needed for RX array. When it eventually dries up, will get elements mounted and feedline run through conduit. Can't wait for testing!
4/29/2013 - placed order with Hi-Z on a Thursday and had product in hand on Monday, Wow, Dick does believe in customer service. Trench dug for underground conduit for feedline / control cable run. Started fabrication for element mounts.
4/6/2013 - Decided to upgrade the low band RX antenna. Sold K9AY loop and contacted Hi-Z regarding one of their triangle arrays. Will disassemble loop and deliver to new owner next week.
1/1/2013 - Photos of antenna installation posted - HERE
11/8/2012 - W5KGT back over to dress all cable on R-55 tower. All lines rotor and phasing lines run neatly INSIDE tower and cable tied every few feet.
11/3/2012 - Hadn't realized it had been so long since I posted any changes. WM5H was here on Nov 1, to help prep antenna for install over the weekend. On Nov 2, the crew gathered and dropped one low 15 meter antenna out of the way, then started raising aluminum. Took two days, but the stack is now all in place. The tower crew was: W5KGT, W5WZ and KG5VK. The ground crew was WM5H, KF5RZH, KD5OQC, KF5DME and myself. AC5EU documented the activities in photos, which I'll post when I get copies. Check "Antenna-Towers" link to left for list of new aluminum.
12/28/2011 - After nearly a week of rain, skys clearing and temps today near 55. Very slow @ work, and it is the holidays, so I gave myself the day off. Relocated 6-pack (guts) to cover mounted on SPG/Entry Panel (see 7/5/2011). Installed boots and cushions on entry panels and ran new control and feedline to 6-pack.
12/18/2011 - Photos of the new antenna(s). Click on photo to enlarge.
12/17/2011 - Finally got a day between Holidays and rain-outs. Kevin, W5KGT, and Bobby, AA5LA, came over to change out the guy brackets on the Rohn 55. The bottom 20 meter OWA and the bottom 15 meter Yagi were already staged to bolt (fixed position) to the tower legs, so while the bottom guys were off, Kevin agreed to hang the antenna. Took only about 45 minutes to mount BOTH antenna. The 20 meter (44' boom) is at 40' and the 15 meter (24 ' boom) is about 35'. Granted, they will have to come down before we can fully load the tower, but at least I can thoroughly test them and play some until the next tower day.
11/12/2011 - Many friends over to assist with hanging 6 HF Yagi's. Last minute, decided to hang a 24' boom, 6el six meter at the top of the mast - abt 135' high. Unmounted the existing 20 mtr Yagi from the 80' high TIC ring, and the 15 mtr Yagi from the 70' Tic. As we were lifting the top 20 mtr OWA, (6 elements on 44' boom), to its home @ 125', the gin pole bent over and pointed at the ground, clamping down on the lift rope. The two tower climbers coolly added a 2nd rope and pulley so we could lower the antenna. Unfortunately, it hung on a guy and in trying to free it, an element was bent. Finally got it down, but then noticed some stress cracks in the guy brackets. This ended the day until antenna could be repaired and guy brackets replaced.
10/2011 - Completed feed on 4L40. Spent hours modeling OWA's and never got software to like them. Must be doing something wrong. Changed software and almost instantly 2nd program said they were almost right. Already been through 50 PL-259's and had to order more. Spent much time cutting phasing lines for stacked Yagi's, new rotor cables, etc.
9/22/2011 - 4L40 ready to have element tips and "cross-over feed" installed for final testing. On 2nd OWA conversion, to insure long term survival, I am replacing the Lexan B/E brackets. Fabricated all new boom/element brackets from 3/8 X 4 X 12 aluminum, each with 16 holes for clamps. All new stainless saddle clamps and tubing to finish 1st directors and driven elements, and Garolite for DE insulators ordered.
9/17/2011 - More work on 1st OWA and starting on 2nd, another 44' boom, this time from a KLM 20M5. This one came with the lexan insulated B/E brackets. Depending on how far I get on others, I may start assembly on KLM 4L40.
9/16/2011 - started assembly of 1st 44' boom, 20 meter OWA, per published specs. This one started as a M2, 20M4. Got 4 elements on, but have to adjust tip length. Will have to fabricate the 1st director and driven element.
9/10/2011 - Finally, WX beginning to break and temps under 100 degrees. Installed two, 2 hole 4" access panels in back wall of shack, one panel behind each operating position. Previously, all feedline and cable went into conduit inside wall and up into ceiling, abt 25 ft. to other end of shack, out through eave, then to distribution. New system will cut almost 50 feed off every control cable and feedline, and every one will attach to the SPG panel just outside shack.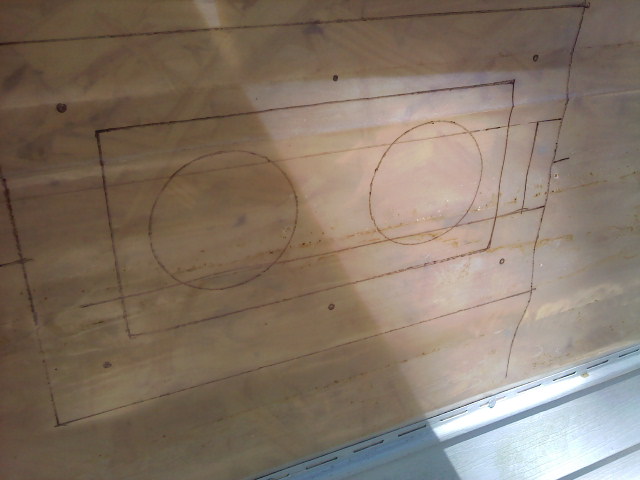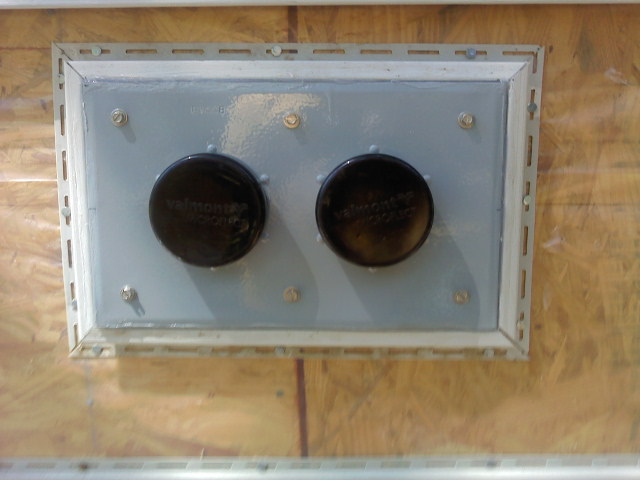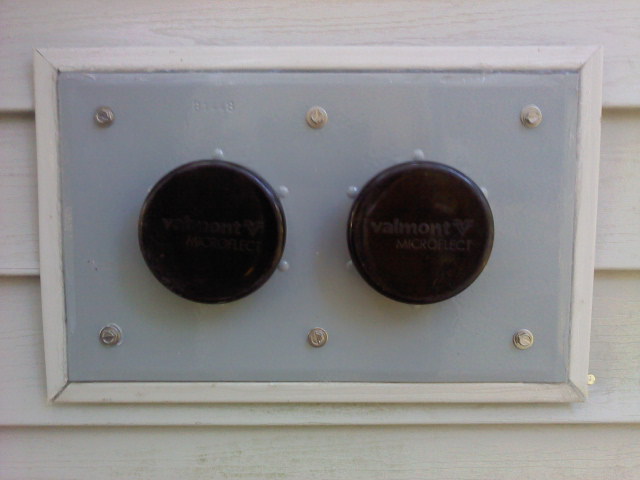 8/13/2011 - Using Scotch 25 color tape, I color coded all ten runs of Heliax from the shack to the two towers. Also coded rotor cables and Stackmatch® control cables by band. Documented all on a spreadsheet hung in the Hoffman® box at SPG. Replaced caps and re-tuned W5WZ's ICE® bandpass filter.
8/5/2011 - 20 meter antenna seemed dead after last week's rotor calibration. Tested all cable and isolated problem to tower. I had new feedline, barrel and balun ready and W5WZ came over to repair. Found it was simply the old rotor loop had dropped into the TIC ring gear. It not only cut the cable, it pulled it cleanly out of the pl-259. Thanks to Scott, who is my biggest competition here in North Louisiana, I'm back on the air.
7/30/2001 - Found potential issue with ground wires on the TIC's and got that fixed. Got rotors re-calibrated.
7/16-17/2011 - Saturday, presided over Louisiana Contest Club meeting @ Slidell hamfest, gave Powerpoint presentation on K9AY loops (see http://www.louisianacontestclub.org/meetings.htm). Sunday, after church, replaced damaged caps in ICE 419b bandpass filter. Filter now back in service.
7/10/2011 - IARU contest. In 2010, had 749 Q's, this year had 852 - about 14% increase. I'll take that.
7/5-6/2011 - A similar box to the one on the tower is mounted on the SPG. All rotor and control cables (68 individual lines) will also go through this box and be protected by Transorbs. 2" conduit above ground attaches to 3" conduit underground for runs to towers. Array Solutions "6-pack" (upper left) and one Stack Match will mount to this panel. All ten underground runs of Heliax are terminated in type N connectors and attach to SPG. A Polyphaser lightning arrester will be used on each line, just above the bulkhead connectors. Feedlines and control cables are color coded on each end.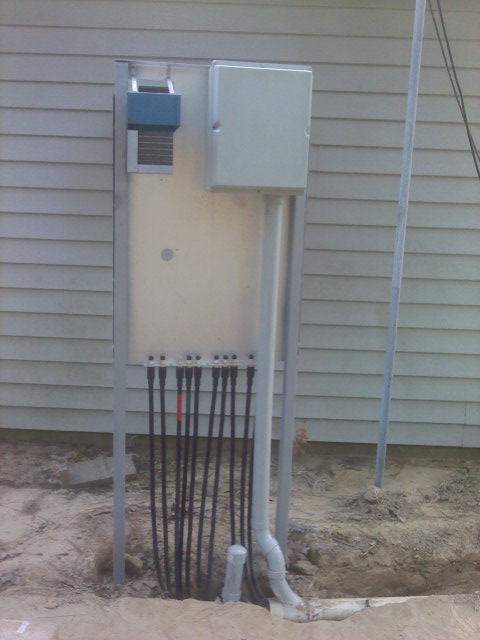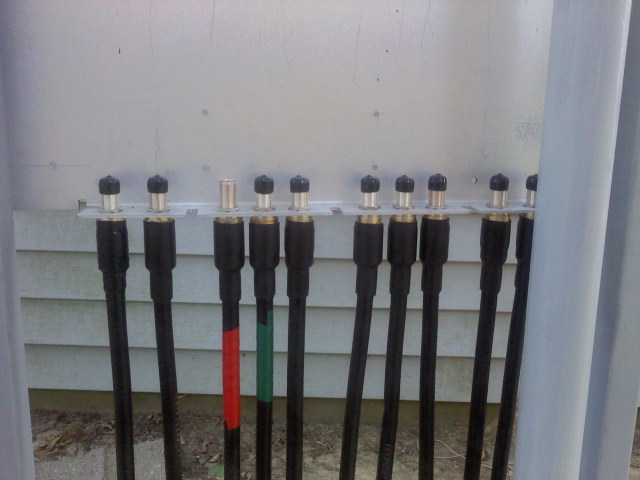 7/2-3/2011 - Drilled & mounted terminal strips and ground buss in Hoffman® box at tower. It is like a PolyPhaser® rotor line protector, only it will have 40 terminals. I plan to use Transorbs on each terminal (not mounted yet). All control lines for Stack Matches and Tic Rings on this tower will go through this box, which will attach to tower ground system. All feedlines coming down tower will go through bulkhead connectors on grounded aluminum panel.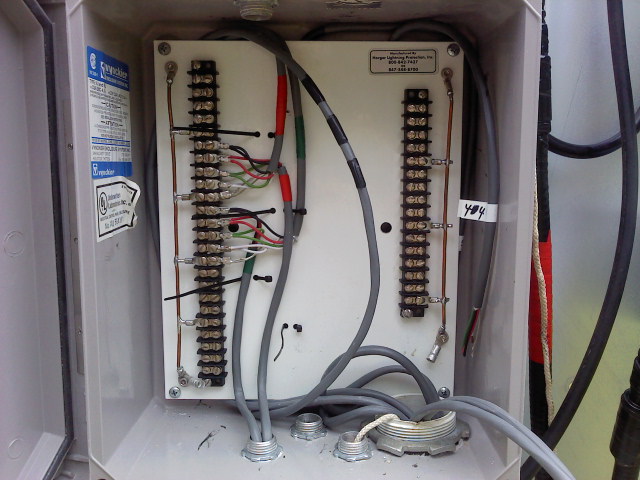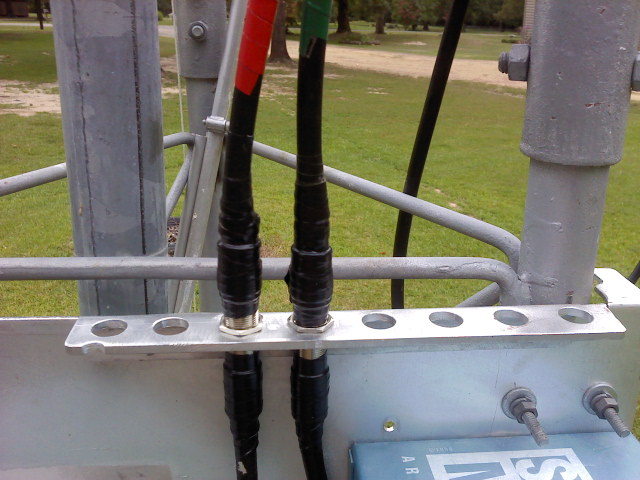 6/28/2011 - Pulled 7 runs of 5 conductor control cable through conduit to Rohn 55 tower to run 2 stack-matches and 5 rotors. Now all cable and feedline to this tower is underground.
6/25/2011 - Field Day - 5 Louisiana Contest Club members participated with local general interest club (W5EA). Went from 1894 Q's in 2010 to 3284 in 2011.
6/11/2011 - Bolted panel to Uni-strut. Mounted Six-Pack® and Hoffman boxes to SPG.
6/4/2011 - Concreted in two pieces Uni-strut for SPG panel outside shack.
5/16-22/2011 - Dayton
5/4/2011 -- Bolted panel to tower and mounted box and attached conduit for control cables. New photos available at: http://www.k5er.com/trenching.htm
5/2/2011 -- Fabricated aluminum panel to mount to Rohn 55 tower.
4/23/2011 -- Local club hamfest + Louisiana Contest Club meeting
4/15-17/2011 -- Rented 3" x 18" trencher. Took abt 2 hours to dig the nearly 500' of trench. With my brother's help, buried 1200 feet of LDF4-50, plus 300' of 3" conduit for control cable and future runs.
4/7/2011 -- Purchased fittings/adapters and laid out conduit. The manufacturer says Heliax can be direct buried, so rather than pull 7 runs of LDF4-50 through the 125' between shack and tower, I will drop it into trench under the conduit. Will run 2 conduits in same trench for control cables and possible future feedline runs.
4/2/2011 -- Collected 300' of 3' conduit to run feedline/control cables underground
3/26/2011 -- CQ WPX 1,474,512 points, 1156 Q's
2/14-15/2011 -- Station K5ER active in Ouachita Parish in Louisiana QSO Party, with ops K5ER and AA5LA. Made 735 Qso's in the 12 hour contest.
2/5/2011 -- Having recently finished the switch and control boxes for the K9AY, I finally got the base, center support and loops done. More info and photos available here.
1/10/2011 -- Second snow of season (first of 2011) - almost an hour, yet enough to shut down schools for 2 days. Changed to sleet/freezing rain in evening and built up about 1/4 inch radial ice on Yagi's and guy wires. Not enough to damage any antenna, but pretty to look at.
1/2/2011 -- We've had a WX roller-coaster in North LA. Temps in the teens for a few days, followed with mid 70's and rain. Waiting for clear "warm" day to finish 15 meter Yagi. Got monitor wall mount for Christmas, so 2nd logging screen is in MUCH better place. Prompted by N5LSP, I started work on a K9AY loop. I decided to build my controls on perf board. Initial testing shows all switching works as designed. Need to get ss hardware to finish the outside box. Now drilling holes for led's/switches on face of inside box.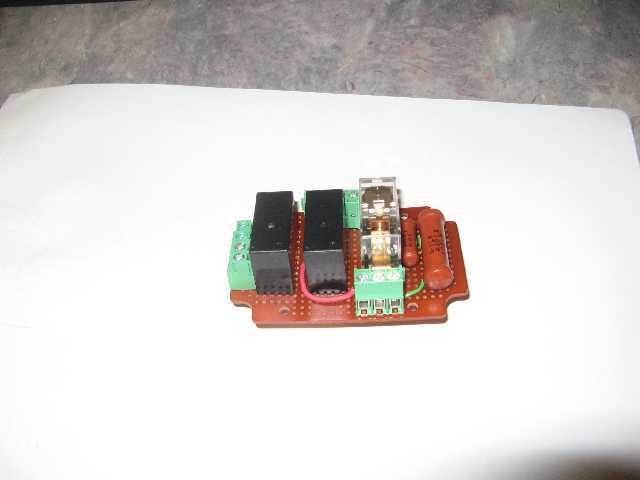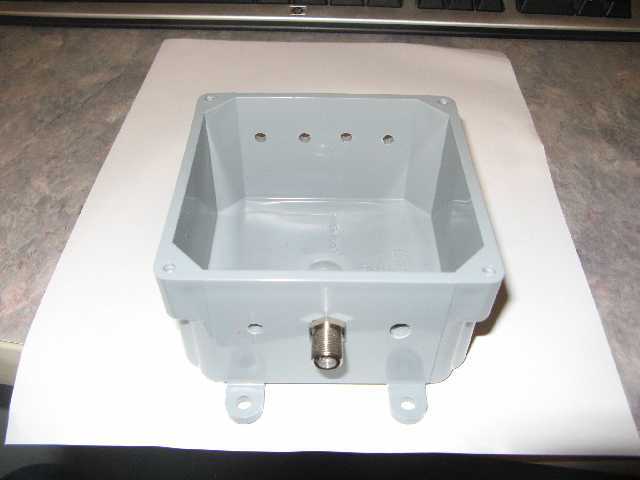 12/22/10 -- With plenty of help from 3 year old Grandson, attached B/E mounts and parasitic elements on last 15M4DX. Just have to decide how to feed this Yagi, so it closely resembles the other two electrically.
12/10-12/10 -- ARRL 10 meter contest. Shortly after start, amp faulted and swr high on all antenna. Traced to 6-pack switchbox. Saturday, moved and stacked firewood all day. Sunday PM, swapped 6-packs and found arced board and shorted relay, along with several crispy ants. Filed and burnished contacts and reset spring tension on all relays. Full function restored. Made 150 Q's in contest - 87 CW and 63 SSB.
12/8/10 -- First snow of the year in North Louisiana - lasted about 12 minutes.
12/7/10 -- Local club Christmas party - no antenna work today.
12/6/10 -- Fabricated platform to mount winch onto brother's trailer. Good swap for use of wood splitter. Parts came in from DXE, so hope to get back to antenna work, soon.
12/4-5/10 -- Borrowed log splitter back from my brother. Spent both days splitting the wood from the Oak trees I took down to make room for the tower. No more logs laying around yard, so wife is happier.
12/2-3/10 -- Fabricated boom to tower brackets for fixing 10 and 15 meter mono-banders to tower legs. Visited hdw store to pick up SS u-bolts for all three sets of mounts. Played a little while in ARRL 160 contest Friday night.
11/30/10 -- Fabricated element to boom brackets from 3 1/2 X 1/4 aluminum flat bar.
11/29/10 -- Ordered stainless u-bolts w/ saddles from DXE to mount elements to boom on 15M4DX
11/20/10 -- Nov SS SSB - Invited to KG5VK for multi op effort. Had a blast.
11/19/10 -- Have two new M2 15M4DX and one KLM 15M4DX, with the older lexan brackets. Since they will be stacked, I am modifying the KLM to be more similar to the M2's, both mechanically and electrically. Today, cut and drilled holes in new 9" x 3/4" center piece, to add more strength to mount. Next will fabricate new brackets from aluminum flat stock.
11/18/10 -- Fabricated 6 more LDF4-50 splice connectors.
11/15/10 -- Fabricated two 1 1/2" tower leg to 3" boom brackets for fixed direction mounting bottom 20 meter OWA toward NE / EU. Will build four more for the 2" boom 10 and 15 meter Yagi's.
11/13-14/10 -- Installed quick connects on two TIC controllers. Also labeled controllers and wires. Measured KLM 15M4DX element size and spacing for conversion to grounded elements. Should be electrically identical to M2 versions when finished.
11/12/10 -- Fabricated 5 "splice" connectors for 1/2" hardline. I'll have 7 runs of LDF4-50 running in underground conduit from shack to tower, about 135 feet. Splices, such as Andrew L44Z are getting rare and expensive. While the lathe and mill are set up, I'll make a few spares, in case somebody else wants to buy a few.
11/6-7/10 -- Nov SS CW - Played some, though not much of a CW Op. Made 132 Q's and 50 sections in about 10 hours.
10/29-30/10 -- CQ WW weekend. Testing new hardware. Issue: 15 meter TIC not showing correct direction - changed controller. Issue switching antenna - not enough control wires to six-pack, temp fix - removed low tri-bander to enable use of mono-banders. Testing gives good results, Both mono-band Yagi's are about 1 S unit better than KT-34XA @ 60' for domestic, and generally 2 s units better for DX. Band noise lower on Mono-banders as well. Better F/B. Contest: 739 Q's for 600,390 points
10/29/10 -- Control cable and temporary feedline run to antenna.
10/28/10 -- TOWER FINISHED! Full height is 124 feet. TIC ring at 117 feet, waiting on antenna. Installed 204BA on 80' TIC and 15M4DX on 72' TIC.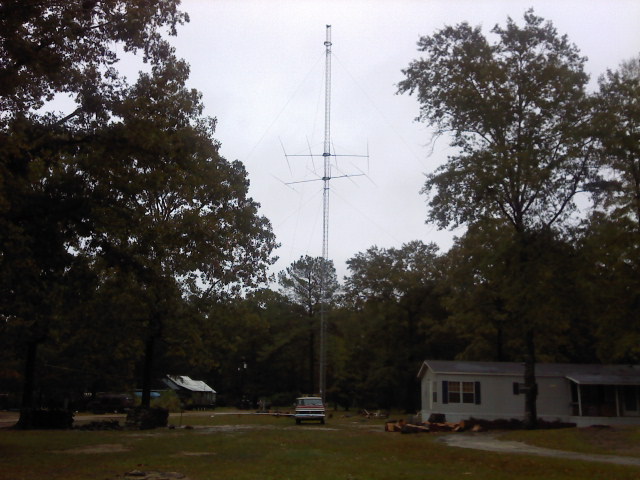 10/23/10 -- Assembled the two 15M4DX Yagi's and one used 204BA.
10/9/10-- Got most of tower stacked. TIC rings @ 72 and 80 feet positions were installed before tower went up. Ran out of daylight and stopped at 96 feet. Gin pole didn't even flex when pulling up 200# sections (Rohn 55 section + TIC ring rotor). Capstan winch was a back saver!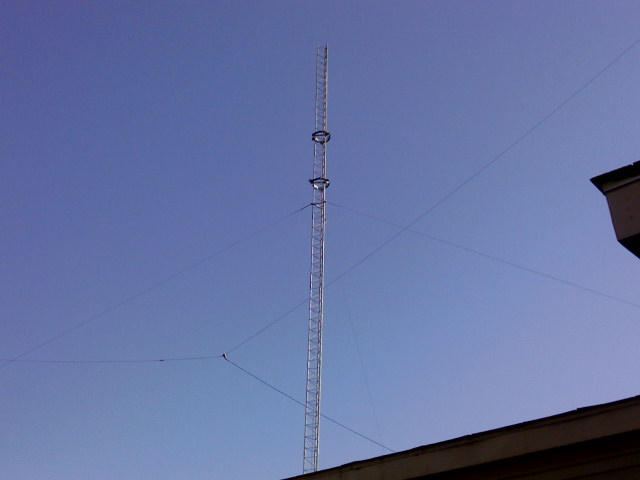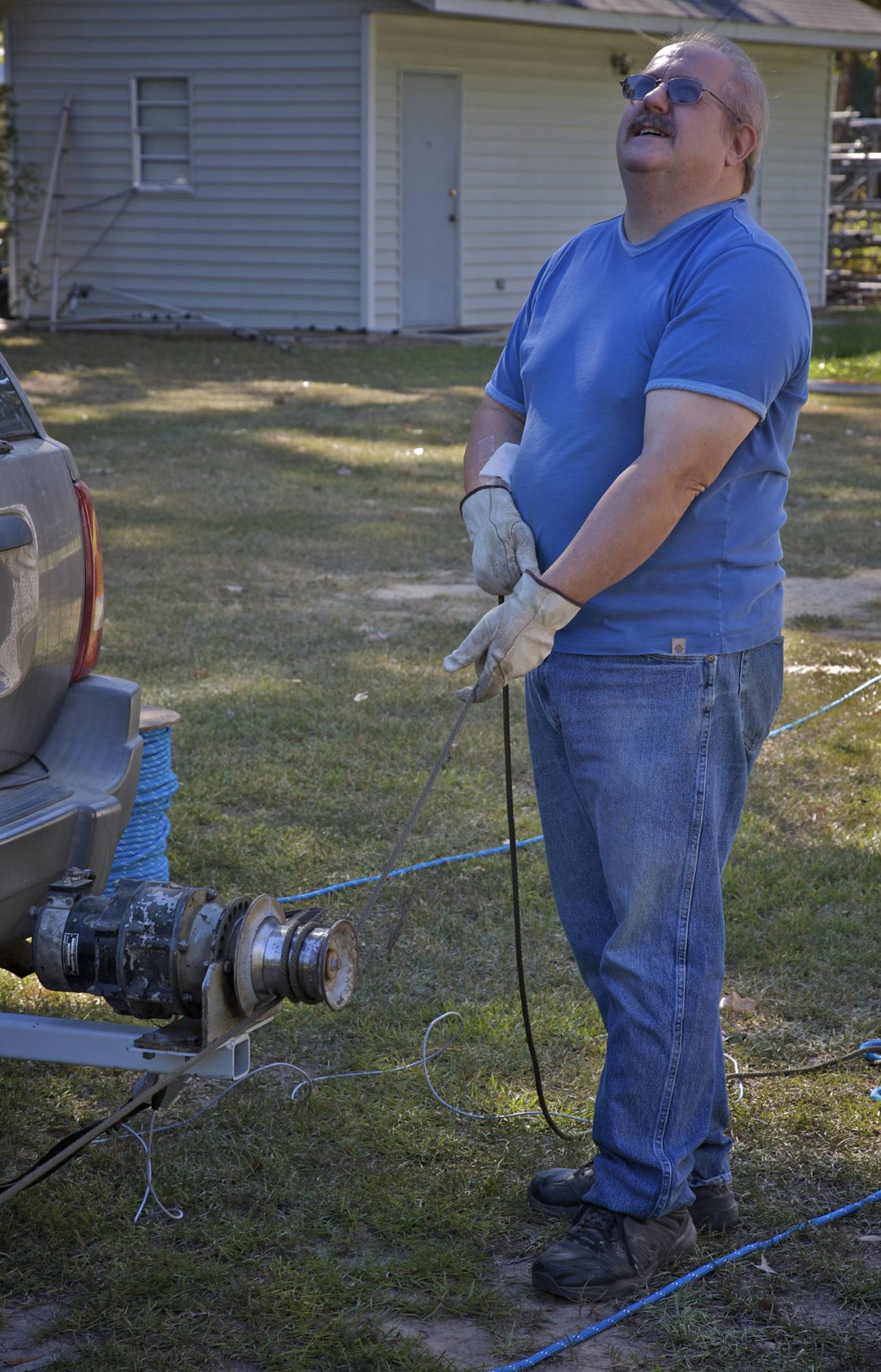 Summer 2010 -- An extremely hot Summer in Louisiana, with a record breaking string of 100+ degree days. Too hot for most outside work. Acquired enough additional tower to finish project. Bought all new guy hardware for tower.
Spring 2010 -- Bought heavy duty gin pole, 16' X 3" x 3/8" wall. Weighs abt 100 lbs. Along with co-owner K5RUS, bought capstan winch and fabricated 2" receiver mount to use on vehicle.
Dayton 2010 -- Several of us drove up from North Louisiana for 4th time. Enjoyed visiting friends. Special thanks to WE3C, John and K5TR, George, for specific advice on guying and Yagi stacking distances. Purchased guy brackets for R-55 - one of the few things I can't fabricate myself.
5/5/10 -- Bought 2 NIB M2 15M4DX Yagi's from Carl, AI6V.
5/1/10 -- Tower base and guy posts poured for new Rohn 55 tower.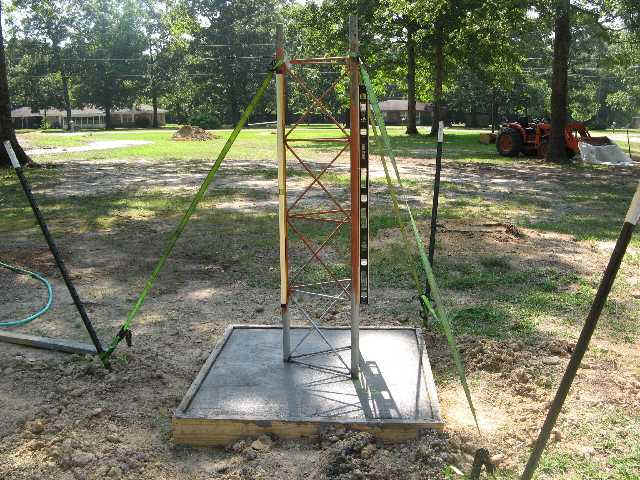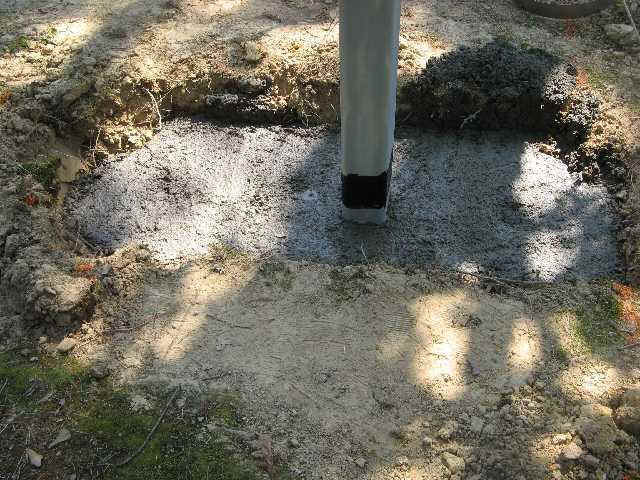 Fall 2009-Spring 2010 -- Acquired abt 80 feet of Rohn 55. Bought TIC ring rotors- two 1022-E's, one 1022-D and one 1032. Bought one 20M4, old design on a 44 ft boom. Made deal on 28' of 5" x 7" x 3/8 wall "tool bar". Used it to fabricate heavy duty guy posts w/ multiple attachment points. Built 3 rebar "cages" for guy post foundations.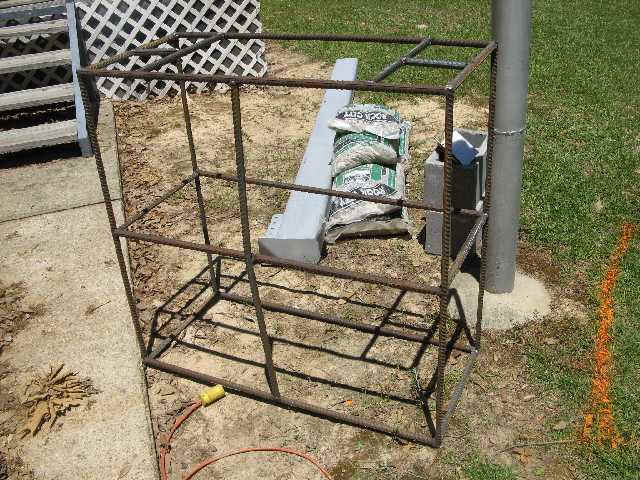 Fall 2009 -- Lost 85' of Rohn 25 and 3 tri-banders + 3 VHF/UHF Yagi's to a large pine tree. No damage to house and no one hurt - now have clean slate for new tower project.
Spring 2009 - Fall 2009 -- Purchased about 350 feet of Rohn 45 for multiple tower projects. Bought (used), from several sources, three 105BA's, one 155BA, one 204BA, one KLM 15M4DX and one KLM 20M5 (44 ft boom).
Spring 2008 - After scratching out notes on napkins in the Contester's Suite in Dayton, 5 Louisiana Contesters banded together and formed the Louisiana Contest Club. Charter officially adopted August 8, 2008. Charter members are: KI5XP, W5WMU, NA5Q, W5WZ, and K5ER. The LCC is ARRL affiliated and located at N5LCC.com
Spring 2008 - Bought KLM 40M4 from W4PA @ Dayton. Storing for later use.